Contact Us to Request Service

We founded our business on three main principles - quality, pricing, and service - and we pride ourselves on our commitment to these principles each day. M.I.R Carpentry  provides outstanding contracting services to all of our clients, and are here to ensure that all of your needs are met. Take a look below to see the variety of services we offer, and what we can do for you today.
Give us a call or submit your information using the form below
Contact

Make It Right Carpentry Inc. 

today to learn more about our services or to request a free estimate. We look forward to hearing from you!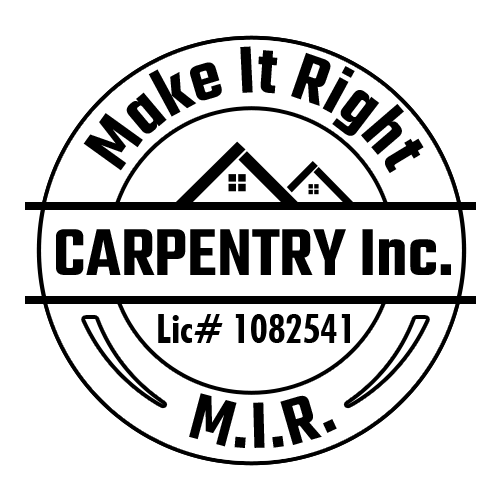 ✔
 Interior
✔ Exterior
✔ Residential
✔ Commercial
✔ Fully Licensed
✔ Experienced
✔
Bathrooms
✔ 
Kitchens
✔ 
Remodels 
✔ 
Additions
✔ 
Decks
✔ Metal Frame Specialty 
Contact Details:
Make It Right Carpentry Inc.
7 Larch Drive,
Novato, CA 94947
Phone: (415) 795-0156
Lic# 1082541
Make It Right Carpentry Inc. 2021.  All rights reserved.
Designed by 1 Fine Design, LLC