Welcome to
Make It Right Carpentry Inc







 

Discover What Sets MIR Carpentry Inc. Apart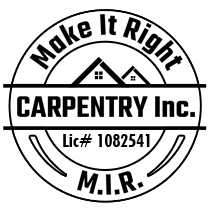 Reliable & Trustworthy Staff
You can count on us to show up on time, provide excellent service and respect your property.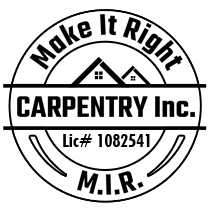 We take our profession seriously and are fully licensed and insured for the safety of our clients and employees.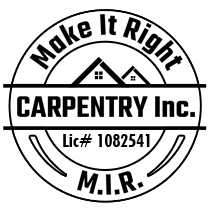 Experienced & Professional
We have years of experience and are qualified tile contracting professionals.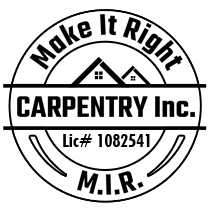 We are a local construction company that cares about our customers and the community we serve.
Make It Right Carpentry Inc.
We founded our business on three main principles: quality, pricing, and service.

We pride ourselves on our commitment to these principles each day.
Along with top quality construction our professionalism will walk you through each step of the process including design, budgeting, and permitting. We guarantee that you always get the finished results you expect.

Please Let Us Know What We Can Help You!
Contact Us Today At 415-795-0156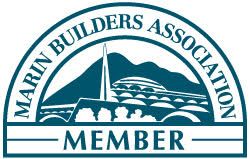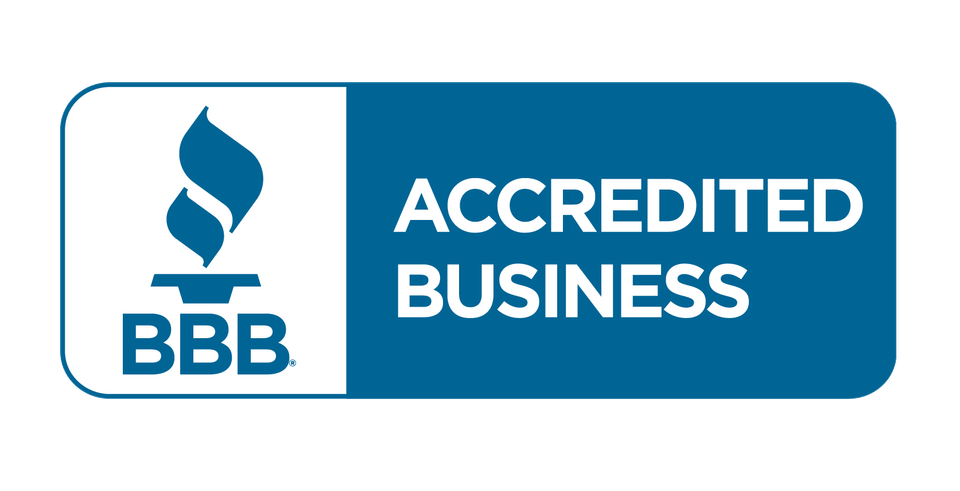 Customer Testimonials
 
"I had about 3 - 5 small construction projects to be completed included a stove top installation and Wilber and his electrician were great. Wilber was very responsive and they even provided the supplies needed for the job. I'll be sure to call them again when help is needed!"

- Preston L.
"Make It Right Carpentry built an amazing front fence at our house. His crew was very quick, does great work, and cleaned up after themselves. I was very happy with the product I got and the price. I got four other quotes and Wilbur's was by far the best. I'll work with him again."

- Dan B.
"Wilber and his crew did a beautiful job building two redwood fences for us. The work was quick, clean, and reasonably priced. Wilber's excellent communication and strong integrity shone through all our interactions. Highly recommended. We'll be working with Wilber and his team again."

- Ted C.
Call Us Today: (415) 795-0156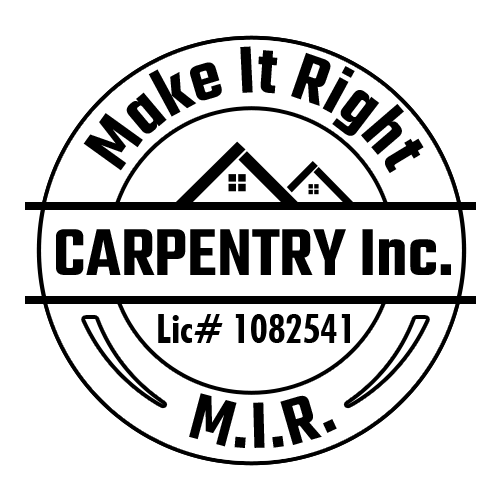 ✔
 Interior
✔ Exterior
✔ Residential
✔ Commercial
✔ Fully Licensed
✔ Experienced
✔
Bathrooms
✔ 
Kitchens
✔ 
Remodels 
✔ 
Additions
✔ 
Decks
✔ Metal Frame Specialty 
Contact Details:
Make It Right Carpentry Inc.
7 Larch Drive,
Novato, CA 94947
Phone: (415) 795-0156
Lic# 1082541
Make It Right Carpentry Inc. 2021.  All rights reserved.

Designed by 1 Fine Design, LLC