I had about 3 - 5 small remodel projects to be completed included a stove top installation and Wilber and his team were great. Wilber was very responsive and they even provided the supplies needed for the job. I'll be sure to call them again when help is needed!
Very professional and skilled carpenter! His work speaks for itself and you will not be disappointed.
Wilbur's Handyman Service built an amazing front fence at our house. His crew was very quick, does great work, and cleaned up after themselves. I was very happy with the product I got and the price. I got four other quotes and Wilbur's was by far the best. I'll work with him again.
Wilber and his crew did a beautiful job building two redwood fences for us. The work was quick, clean, and reasonably priced. Wilber's excellent communication and strong integrity shone through all our interactions. Highly recommended. We'll be working with Wilber and his team again.
Make It Right Carpentry just completed a major bathroom renovation for us, and his work and crew were fantastic, and the end result was extraordinary. Our whole family is impressed with the work and improvements that were completed, and our bathroom went from an old and worn out mess to something that is absolutely beautiful. We plan to use Wilber again, and I highly recommend Wilber for any home improvement projects.
Wilber and his team are wonderful. kind, and hardworking. We used them to do our bathroom remodel, move part of our side gate, and paint our exterior. They did a great job with everything, were great communicators, and offered fair prices. We look forward to doing more projects with Make it Right Carpentry!
Wilber & his crew did great work tiling our bedroom floor. He was very professional, a clear communicator did the job in less time than I expected. He was willing to address whatever came up. It went very smoothly.  
Wilber and his crew installed 3 new large windows on a load-bearing shear wall of our home. This required some tricky structural engineering and replacing some 40 year old T1-11 siding. Wilber was prompt, easy to communicate with and did a great job. Will certainly have them back for the next project!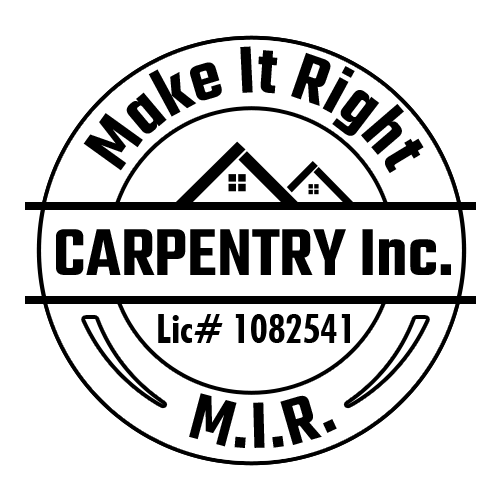 ✔
 Interior
✔ Exterior
✔ Residential
✔ Commercial
✔ Fully Licensed
✔ Experienced
✔
Bathrooms
✔ 
Kitchens
✔ 
Remodels 
✔ 
Additions
✔ 
Decks
✔ Metal Frame Specialty 
Contact Details:
Make It Right Carpentry Inc.
7 Larch Drive,
Novato, CA 94947
Phone: (415) 795-0156
Lic# 1082541
Make It Right Carpentry Inc. 2021.  All rights reserved.

Designed by 1 Fine Design, LLC