The Quality You Deserve

Welcome to M.I.R Carpentry Inc.  We Provide contracting services in the San Francisco Bay area Catered to fit your specific needs. From small projects to the larger and more complex, we ensure that All of our clients truly achieve exceptional results. Browse our site to see all that we offer what we can do for you!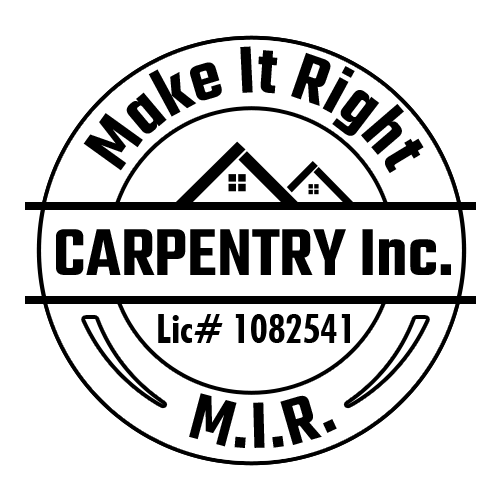 ✔
 Interior
✔ Exterior
✔ Residential
✔ Commercial
✔ Fully Licensed
✔ Experienced
✔
Bathrooms
✔ 
Kitchens
✔ 
Remodels 
✔ 
Additions
✔ 
Decks
✔ Metal Frame Specialty 
Contact Details:
Make It Right Carpentry Inc.
7 Larch Drive,
Novato, CA 94947
Phone: (415) 795-0156
Lic# 1082541
Make It Right Carpentry Inc. 2021.  All rights reserved.

Designed by 1 Fine Design, LLC